Hewitt Cemetery
Clearfield County PA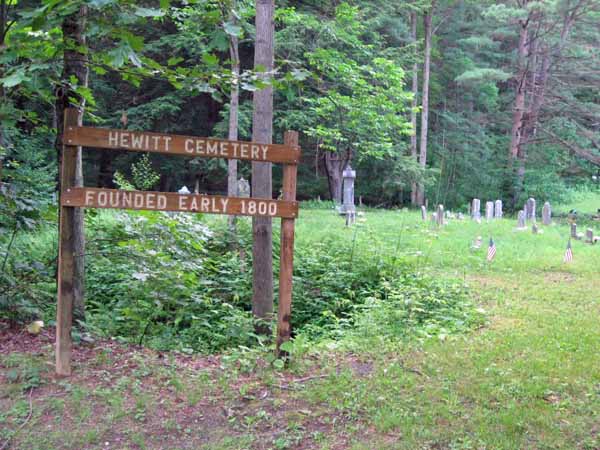 Hewitt Cemetery Clearfield Co., PA as developed by Helen Scott Lovenduski and others for the Mt Zion Historical Society in January 2009. Special thanks to Chris Painter for sharing many of the tombstone photos for this cemetery. Hewitt Cemetery even though it is in Clearfield County has graves of those that lived in or near Bennett's Valley. We thank Helen and the Society for use of this cemetery transcription. Many old grave markers are very difficult to read. In addition, occasionally a typing mistake occurs. We apologize for any errors which may occur, and would appreciate any information that would help keep update this list as I have already done.

Located left, going North, off Route 255, at Mill Run, Clearfield County, Penna., 21 miles north of Du Bois, Penna.



Last Name
First / MI Name
Birth
Death
Other
Tombstone Photo
B(Probably Browell)
R.N.
GAR
BELL
Frankie S.
July 14,1890
Aug 10,1897
"Our Darling"
View Photo
BLISS
BLISS
BLISS
BLISS
ELECTRA (Erona Brown)
( 1811)
Oct 3, 1884
Age 73 yrs 8M 8Dys; Wife of S.W. Bliss
View Photo
BLISS
GEORGE
( Jul. 27, 1837 )
Dec 26, 1902
Aged 65yrs 5M 29 Ds ;Son of Samuel Ward Bliss and Electra Brown Bliss
View Photo
BLISS
SAMUEL W(ard).
( Nov. 12, 1805)
Dec 9,1878
Age 73 yrs 27Dys
View Photo
BROWELL
EDITH J.
( Jan. 23, 1881)
Aug 23,1902
Aged 21 yrs 7 ds ; Dau. Of R. A. & M.J. Browell
View Photo
BROWELL
Robert N
Apr. 20, 1881
Nov. 2, 1887
Son of R.A. and M.J.
View Photo
BROWN
HANNAH
July 8, 1855
in her 80th yr. ; "Blessed are the dead, which die in the Lord"
View Photo
CHALLINGSWORTH
DAVID
Dec 16,1897
aged 9 yrs ; Son of John and Elizabeth
View Photo
CHALLINGWORTH
JAMES
June 4, 1897
Aged 5 yrs 5m-5 dys ;Son of John and Elizabeth
View Photo
COOK
ELIZABETH (Lucore)
March 6,1875
Aged 65 yrs.10m 21Ds ; "Let her rest"
View Photo
KOOKER
EMMA CURTIS
April 23, 1869
Aged 28 days ; Daughter of F. & Z. Cooker
View Photo
COOKER
F.R.
Mar- 1,1844
Mar 12, 1936
"Father"
View Photo
COOKER
L. ZELINA
April 28, 1849
Oct 5, 1899
"Mother"
View Photo
GRAY
CLARA A.
1865
1928
View Photo
GRAY
Rachel
Nov 4,1888
Aug 24,1911
"Death is eternal life, Why should we weep?
View Photo
GRAY
SAMUEL H.
1851
1915
View Photo
HEVENER
HEVENER
ARVILLA HEWITT
1841
1918
View Photo
HEVENER
GLEN F.
Oct 16,1898
Age 1yr 3m 13 Dys ; Son of J.A. & V.M. Hevener
View Photo
HEVENER
JOHN
1836
1915
View Photo
HEVENER
PAUL R.
Aug 18, 1898
Aug 18, 1898
Son of J.A. & V.M. Hevener
View Photo
HEWITT
ARRILLA
Dec 29,1870
in her 54th yr.; Wife of John B. Hewitt
View Photo
HEWITT
ARVILLA
May 19,1882
Age 64 yrs 10M 11 Ds ; "Was a kind & affectionate wife,mother & Friend"
View Photo
HEWITT
BABY HARLAN
View Photo
HEWITT
C.
View Photo
HEWITT
EBENEZER
June 18, 1871
In his 89th yr ; "In this work I had tribulations, In Christ if have peace"
View Photo
HEWITT
EBENEZER J.
Nov 7, 1878
Aged 24 yrs 8M & 11 dys ; Son of Thomas and Ann Hewitt
View Photo
HEWITT
ERMINA
Jan 1,1855
In her 26th yr.
View Photo
HEWITT
HARRIET ANN
d July 20, 1859
Aged 2yrs 8m & 24 dys ;Daughter of T.w & A Hewitt
View Photo
HEWITT
J. CURTIS
Aug 22,1875
Age 21yrs 13ds ; Son of J.B. & A. Hewitt
View Photo
HEWITT
JOHN B.
Oct 4,1897
Age 82yr 5M 20 Ds. ; "The morning cometh"
View Photo
HEWITT
M.
View Photo
HEWITT
SARAH
Jan 22,1854
in her 67 year ; "Not dead but sleepeth"
View Photo
HEWITT
T.W.
View Photo
HEWITT
THOS R.
1860
1928
"At Rest"
HEWITT
WILLIAM H.
Feb 17,1873
- aged 18yrs 1m 24dys ; Son of C.A. & Mary A. Hewitt
View Photo
LETTS
CHESTER A.
Oct 10
4yrs 11M 28ds ; "In Heaven"
View Photo
LETTS
LAURA MAY BELLE
April 20,1872
11days ; Daughter of T.W. & Susan Lett
View Photo
LIBBEY
EMMA i.
Aug. 10, 1872
Aged 11yrs 3 M ; Daughter of J.G. & R.A.
LUCORE
MOSES W.
Aug 31, 1875
1 st Lieut. Co. C. 42 Rgt. P.V. Bucktails
View Photo
McGRINDER
ANN
Dec 6,1901
Aged 76 Yrs ; "At Rest"
View Photo
McGRINDER
JOHN
May 5,1895
68yrs 9 Mos ; GAR
View Photo
MOOREHOUSE
EDYTHE L.
Daukghter of Samuel & Emma
View Photo
MOOREHOUSE
SAM
1867
1941
View Photo
MOOREHOUSE
BABY HELEN
View Photo
MOOREHOUSE
WILLIAM M.
Sept 17, 1893
April 27, 1899
"Gone but not forgotten"
View Photo
MOOREHOUSE
EFFIE
View Photo
SMITH
ELIZA M
1863
1919
(maybe nee Park)
View Photo
SMITH
J W
1884
1938
(may be called Henrey)
View Photo
WALKER
KATIE
July 10,1896
28 yrs 3m & 18ds ; Wife of David Walker
View Photo
WALKER
THOMAS
Nov 10, 1829
June 22,1896
Jeaus said be thou faithful unto death and I will give thee a crown of life"
View Photo
WHITEHOUSE
ELIZABETH
Feb 25,1844
Sept 12,1908
w of S. Whitehouse "At Rest"
View Photo
WHITEHOUSE
SAMUEL
May 12,1838
July 7,1900
"He has laid life's burdens down"
View Photo
Daughters of John and Reliance Babcock Bliss. John served in the Revolutionary War at Valley Forge, under Gen. George Washington. Both John and Reliance are buried at Genesee Falls, New York. They were the great - great grandparents of the present Regent of the DuBois Chapter, Florence Lucore Sykes.
Contributed by the Mt Zion Historical Society and Bob Nay

In keeping with our policy of providing free information on the Internet, data may be freely used by non-commercial entities, as long as this message remains on all copied material. These electronic pages cannot be reproduced in any format for profit or other presentation without permission from the contributors above.


Return to Elk County Genealogy Website


or


Return to Mt Zion Historical Society Website